D.A to Central Govt Employees and Dearness Relief to Central Govt Pensioners from 1st January 2020 to July 2021 and Ministry of Finance released the office memorandum No. 1/1/2020-E- II(B) on 23rd April, 2020 for freezing of DA & DR till July 2021.
Currently Central Government Employees and Pensioners receiving only 17 percent DA / DR since July 2019. In the above said office memorandum it has been pointed out that, Arrears will not be paid from 1st January 2020 till 30th June 2021.
Due to this Central Government Employees will face huge loss in the salary for one and half years.
As per the AICPIN for last 6 months i.e. Jan 2020 to June 2020 the Central government employees would have received 24 per cent DA / DR from July 2020, perhaps if the Central Government had not freeze the DA / DR since January 2020
Almost Central Government Employees / Pensioners lost 7 percent DA / DR from Jan 2020 to Dec 2020.
PERCENTAGE
DA from July 2019
17%
–
DA from Jan 2020
21%
4%
DA from July 2020 (expected)
24%
3%
DA LOSS
7%
This article is based only on the AICPIN / DA Calculation formula, however there is no official confirmation from Central Government about DA percentage.
Expected DA – AICPIN for the month of June, 2020 increased by 2 points
No. 5/1/2020-CPI
GOVERNMENT OF INDIA
MINISTRY OF LABOUR & EMPLOYMENT
LABOUR BUREAU
'CLEREMONT', SHIMLA-171004
DATED: 31st July, 2020
Press Release
Consumer Price Index for Industrial Workers (CPI-IW) — June, 2020
The Labour Bureau, an attached office of the M/o Labour & Employment, has been compiling Consumer Price Index for Industrial Workers every month on the basis of the retail prices of selected items collected from 289 markets spread over 78 industrially important centres in the country. The index is compiled for 78 centres and All-India and is released on the last working day of succeeding month. The index for the month of June, 2020 is being released in this press release.
The All-India CPI-IW for June, 2020 increased by 2 points and stood at 332 (three hundred and thirty two). On 1-month percentage change, it increased by (+) 0.61 per cent between May and June, 2020 compared to (+) 0.64 per cent increase between corresponding months of previous year.
The maximum upward pressure in current index came from Food group contributing (+) 1.65 percentage points to the total change. At item level, Rice, Groundnut Oil, Fish Fresh, Goat Meat, Poultry (Chicken), Milk (Buffalo), Brinjal, Cauliflower, Green Coriander Leaves, Potato, Tomato, Refined Liquor, Cooking Gas, Petrol, etc. are responsible for the increase in index. However, this increase was checked by Wheat Atta, Arhar Dal, Garlic, Onion, Arum, Coconut, Lady's Finger, Lemon, Mango, Kerosene Oil, etc., putting downward pressure on the index.
At centre level, Jharia recorded the maximum increase of 9 points. Among others, 8 points increase was observed in 3 centres, 7 points in 2 centres, 6 points in 3 centres, 5 points in 7 centres, 4 points in 12 centres, 3 points in 7 centres, 2 points in 10 centres and 1 point in 12 centres. On the contrary, Ranchi-Hatia recorded the maximum decrease of 8 points. Among others, 3 points decrease was observed in 5 centres, 2 points in 2 centres and 1 point in 1 centre. Rest of 12 centres' indices remained stationary.
The indices of 31 centres are above All-India Index and 45 centres' indices are below national average. The indices of Chhindwara and Jalandhar centres remained at par with All-India Index.
Year-on-year inflation based on all-items stood at 5.06 per cent for June, 2020 as compared to 5.10 per cent for the previous month and 8.59 per cent during the corresponding month of the previous. year. Similarly, Food inflation stood at 5.49 per cent against 5.88 per cent of the previous month and 5.47 per cent during the corresponding month a year ago.
The next issue of CPI-IW for the month of July, 2020 will be released on Monday 31st August, 2020. The same will also be available on the office website www.labourbureaunew.gov.in
(Shyam Singh Negi)
Deputy Director General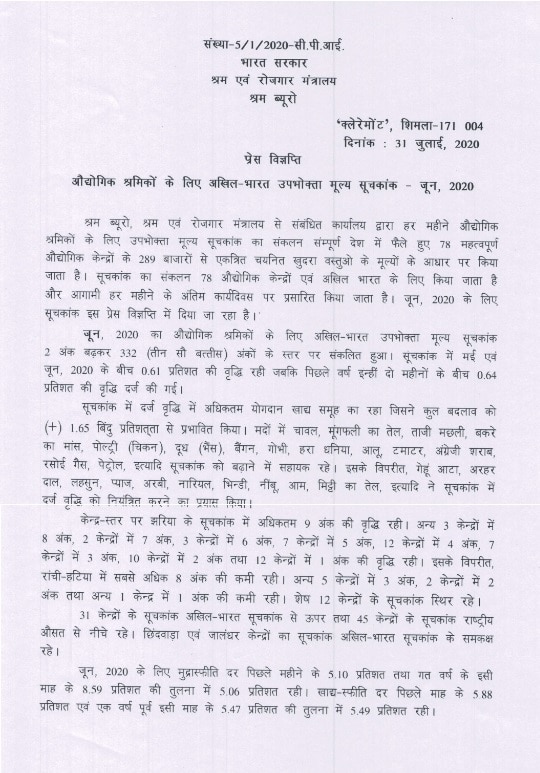 Source: Labour Bureau
No. 5/1/2020-CPI
GOVERNMENT OF INDIA
MINISTRY OF LABOUR & EMPLOYMENT
LABOUR BUREAU
'CLEREMONT', SHIMLA-171004
DATED: 31st July, 2020
Press Release
AICPIN Consumer Price Index for Industrial Workers (CPI-IW) for June, 2020
The Labour Bureau, an attached office of the M/o Labour & Employment, has been compiling Consumer Price Index for Industrial Workers every month on the basis of the retail prices of selected items collected from 289 markets spread over 78 industrially important centres in the country. The index is compiled for 78 centres and All-India and is released on the last working day of succeeding month. The index for the month of June, 2020 is being released in this press release.

The All-India CPI-IW for June, 2020 increased by 2 points and stood at 332 (three hundred and thirty two). On 1-month percentage change, it increased by (+) 0.61 per cent between May and June, 2020 compared to (+) 0.64 per cent increase between corresponding months of previous year.

The maximum upward pressure in current index came from Food group contributing (+) 1.65 percentage points to the total change. At item level, Rice, Groundnut Oil, Fish Fresh, Goat Meat, Poultry (Chicken), Milk (Buffalo), Brinjal, Cauliflower, Green Coriander Leaves, Potato, Tomato, Refined Liquor, Cooking Gas, Petrol, etc. are responsible for the increase in index. However, this increase was checked by Wheat Atta, Arhar Dal, Garlic, Onion, Arum, Coconut, Lady's Finger, Lemon, Mango, Kerosene Oil, etc., putting downward pressure on the index.

At centre level, Jharia recorded the maximum increase of 9 points. Among others, 8 points increase was observed in 3 centres, 7 points in 2 centres, 6 points in 3 centres, 5 points in 7 centres, 4 points in 12 centres, 3 points in 7 centres, 2 points in 10 centres and 1 point in 12 centres. On the contrary, Ranchi-Hatia recorded the maximum decrease of 8 points. Among others, 3 points decrease was observed in 5 centres, 2 points in 2 centres and 1 point in 1 centre. Rest of 12 centres' indices remained stationary.

The indices of 31 centres are above All-India Index and 45 centres' indices are below national average. The indices of Chhindwara and Jalandhar centres remained at par with All-India Index.

Year-on-year inflation based on all-items stood at 5.06 per cent for June, 2020 as compared to 5.10 per cent for the previous month and 8.59 per cent during the corresponding month of the previous. year. Similarly, Food inflation stood at 5.49 per cent against 5.88 per cent of the previous month and 5.47 per cent during the corresponding month a year ago.

The next issue of CPI-IW for the month of July, 2020 will be released on Monday 31st August, 2020. The same will also be available on the office website www.labourbureaunew.gov.in

(Shyam Singh Negi)
Deputy Director General