Retirement Benefits for Pensioners
GOVERNMENT OF INDIA
DEPARTMENT OF PENSION & PENSIONERS' WELFARE
Retirement Benefits in One Click
Our Efforts Towards Dignified Retirement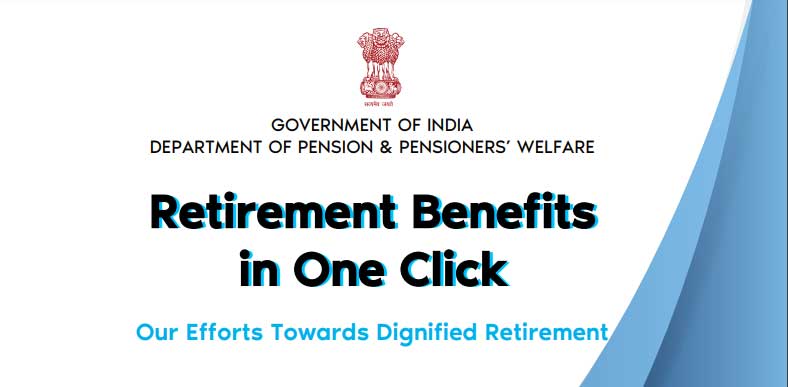 MINISTRY OF PERSONNEL, PUBLIC GRIEVANCES
DEPARTMENT OF PENSION & PENSIONERS' WELFARE
LOK NAYAK BHAWAN, KHAN MARKET,
NEW DELHI-110003
Dr. Kshatrapati Shivaji, IAS TRIAS
Secretary. GOVERNMENT OF INDIA,
FOREWORD
Department of Pension and Pensioners Welfare has been leveraging technology year after year, to make the system seamless and more and more convenient for the elderly Pensioners, while taking other steps for bringing about changes in pension policy towards providing a life of dignity for them and their dependents. Some of the major initiatives/support measures taken in this regard include providing Doorstep Service for submission of Digital Life Certificate through Postal Department besides the facility to submit life certificate online through Jeevan Pramaan Portal. This is considered to be a step towards making the Pensioners "Atamnirbhar" as the DLC can now be given from the comfort of one's home also.
Over the past few years, this Department has also taken a number of decisions to liberalize and simplify the rules and procedures to make the life of our honored pensioners and their dependents simpler and dignified. Rules have been relaxed for divorced daughters to receive Family Pension and now a daughter is entitled to receive the Family Pension even if the divorce has not finally taken place but the divorce petition had been filed by her during the lifetime of her deceased parent employee/ pensioner. Earlier Rule provided for payment of Family Pension to a divorced daughter only if the divorce had taken place during the lifetime of deceased parent pensioner or his spouse. The new Rule not only brings ease to the life of pension receiving individuals but also ensures respectable and equitable rights for the divorced daughters in society. Rule 64 of CCS (Pension) Rules, 1972, was relaxed in order to ensure immediate provisional sanction of pensionary benefits amid the unprecedented situation of COVID-19, wherever an employee is likely to retire before finalization of his dues or is unable to submit the pension claim form. . The Government has very recently made amendment of income criteria for grant of family pension to children/siblings suffering from a mental or physical disability.
While the DOPPW has been striving to bring about, from time to time, necessary changes, it is all the more important to keep the pensioners aware of various developments in the pension administration system. Keeping this in view the Department has now decided to bring about Booklet titled "Know Your Retirement Benefits", which I am sure, will be helpful in creating awareness amongst pensioners. It will also serve as a guide for officers and dealing staff dealing with pension-related matters in Ministries/ Department/ Organisation.
I am happy and proud to release this Booklet of Department of Pension and Pensioners Welfare which will be a help in determining the retirement benefits entitlements of Pensioners and their dependents.
Sd/-
(Kshatrapatt Shivaji)
INDEX
PENSION

GRATUITY

COMMUTATION

PENSION PAYMENT PROCEDURE

5, PENSION ACCOUNT & DECLARATIONS

LIFE CERTIFICATE

TRAVELLING ALLOWANCE

CGEIS

LEAVE ENCASHMENT

GPF

FIXED MEDICAL ALLOWANCE

LIST OF RECENT PENSION POLICY REFORMS