Other Premium Products of IPPB - Life Insurance (Term Insurance)
Life Insurance Term Insurance -
BAJAJ ALLIANZ LIFE SMART PROTECT GOAL
(A Non Linked, Non-Participating, Pure Life Term Insurance Plan)
OVERVIEW:
Life is full of uncertainties. One unfortunate incident can impact the financial stability of the entire family. Term insurance is a tool that provides a ¬financial safety net in such situations. Term Insurance helps in ensuring that your life goals such as children's education and marriage, buying own house etc. are fulfi¬lled even if something happens to you. This is why it is extremely important that you get enough life insurance coverage depending on your needs.
Bajaj Allianz Life Smart Protect Goal is a comprehensive term plan that helps you meet your life's aspirations and ensures your family does not have to compromise on anything.
KEY BENEFITS:
• Life Cover – For Self
• Option to choose Return of Premium (ROP 1) as maturity benefit
• Flexibility to opt for Single, Limited, or Regular Premium Payment Term
• Tax benefit *
Product feature/ benefit mentioned above are dependent on variant chosen
* Tax benefits as per prevailing Income Tax Laws shall apply. Please check with your tax consultant for eligibility
The advantages, variant and eligibility criteria mentioned in this document are specific to POS channel.
India Post Payments Bank (IPPB) is offering the product in partnership with Bajaj Allianz Life Insurance Company Ltd. (BALIC). The details are as under.
ELIGIBILITY CONDITIONS: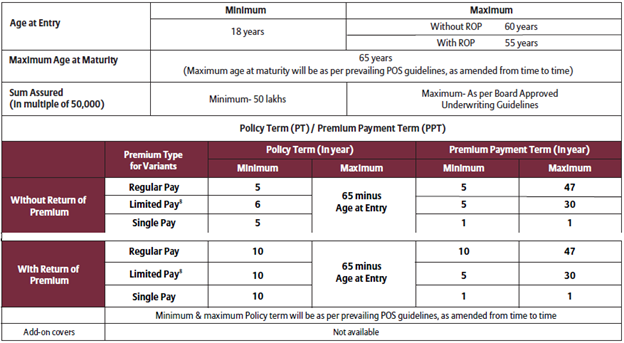 For Limited Premium Payment, the PPTs available are 5, 10, 15, 20, 25, 30 years. For Limited Premium with ROP option, the minimum difference between PT and PPT should be 5 years.
Quarterly & Monthly premium payment frequency will be allowed only under auto-debit process (as per the approved RBI facilities)
To know the applicable commissions and charges, please contact your nearest Post Office or IPPB Branch/Relationship Manager.
Disclaimer - The participation by IPPB's customer in insurance products is purely on a voluntary basis. There is no 'linkage' either direct or indirect between the provision of banking services offered by the bank to its customers and use of the insurance products.